Kyiv is one of the greenest cities in Eastern Europe. It's famous by the chestnut trees which grow on many streets of downtown. Despite the fact that the chestnut trees are a symbol of the city, there are many kinds of other trees – poplars, pines, oaks and others. Among them there is a huge amount of very old trees aged up to 900 years. Don't miss these green wonders when you happen to visit Kyiv!


Petro Mohyla's Lime tree and Chestnut tree
Age: 400 years
The trees were planted by Kyiv's famous Metropolital Bishop Petro Mohyla (1596-1646). He was one of the most influential political and theological persons in Ukrainian history.

Grünewald's Oak
Age: 800-900 years
The oak was named after the famous painter Matthias Grünewald who used to draw fantasy trees.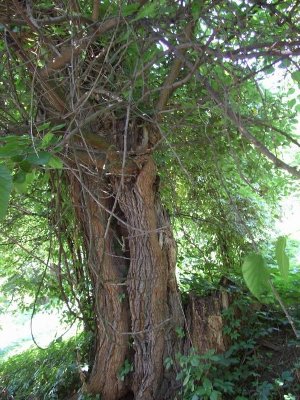 Taras Shevchenko's Mulberry Tree and Oak
Age: 400-500 years
The mulberry tree was planted by the nearby monastery's monks who brought the seeds from Middle Asia. It was personally observed by Russian King Peter I The Great (1672-1725). The tree won it's fame after the famous Ukrainian writer and poet Taras Shevchenko had painted it.
The Oak was a place when Shevchenko used to chill and think in summer.

Feodosiy Pecherskiy's Lime Tree
Age: 500-900 years
The tree was planted by Feodosiy Pecherskiy, one of the founders of Kyiv-Pechersk Lavra monastery. Feodosiy felt sorry for his beloved mother, so he planted the lime tree on her grave. Another legend says that the tree was planted hundreds of years later and named after the great monk Feodosiy.

Krister's Oak
Age: 700 years
Famous Kyiv florist Kirster has planted this tree near his homestead. This is the biggest of Kyiv's old trees. It was recently cured from a disease.

Göring's Lilac
Age: 100 years
Despite the fact that this tree is not so old, this is the oldest Kyiv's lilac. It used to grow in a personal garden of nazi leader Hermann Wilhelm Göring in Germany. After the World War II it was brought to Kyiv as a trophy.
There are much more nice and old trees in Kiev, just walk down the streets of Podol, Pechersk, or Holosievo districts and you will see many of them!